Description
The Design Station was created with a minimalist aesthetic in mind. While keeping your tablet safe from damage and theft, the Design Station also improves how your store looks.
The ergonomic design and built-in cable management make it an innovative and functional solution for any checkout counter.
The Design Station features:
Base dimensions: 30L x 20P x 23H cm
Cable management that allows continuous charging when tablet is installed
Screen with adjustable tilt + / – 5 °
Secure key locking systems (it comes with 2 keys)
Product built in sturdy steel.
Compatible tablets – 7 to 13 inches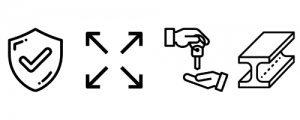 TABLET DIMENSIONS FOR COMPATIBILITY
The SN PRO Tablet Holder is compatible with all tablets that are equal to or smaller than 290(W) x 212(H) x 9(D) mm;
The SN PRO tablet holder is compatible with larger tablets that are equal to or smaller than 295(W) x 215(H) x 6.5(D) mm
iPad Pro 12.9" (5th Gen.)
iPad Pro 12.9" (4th Gen.)
iPad Pro 12.9" (3rd Gen.)
iPad Pro 11" (3rd Gen.)
iPad Pro 11" (2nd Gen.)
iPad Pro 11" (1st Gen.)
iPad Pro 10.5"
iPad Air 2 9.7"
iPad Air (4th Gen.)
iPad Air (3rd Gen.)
iPad Mini 4
iPad 10.2" (7th Gen)
Samsung Galaxy Tab A 10.1"
Surface Go Pro 10"
Surface Pro 7 12.3"