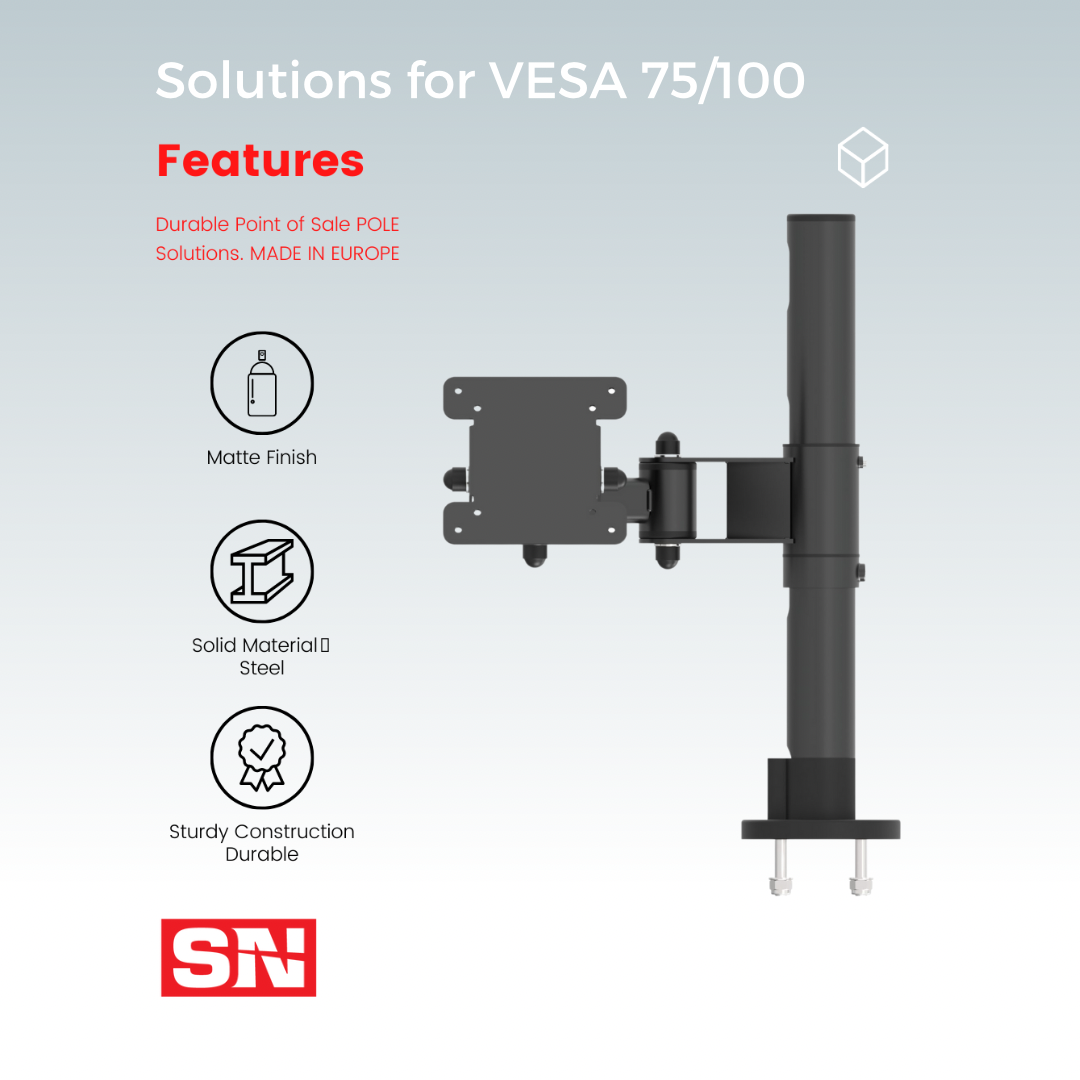 In an increasingly digital world, touch screen monitors have become essential in various aspects of life, from the office to entertainment. To fully utilize your monitor, a high-quality VESA mount from SN SYSTEMS is crucial. With over 25 years of expertise in manufacturing solutions, SN SYSTEMS offers VESA 75/100 mounts. In this article, we'll explore the advantages of SN SYSTEMS' VESA mount solutions and how they can enhance your workspace or entertainment setup.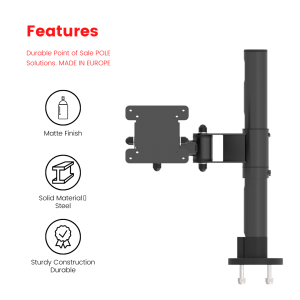 Superior Ergonomic Flexibility:
A key strength of SN SYSTEMS' VESA mounts is their exceptional ergonomic flexibility. You can easily and precisely adjust the height on the main pole, tilt, and angle of the monitor, ensuring it's optimally positioned. This not only reduces visual fatigue but also improves your posture, crucial for long-term well-being.
SN SYSTEMS' VESA mounts free up valuable space on your desk, checkout counter, or in your environment. By mounting the monitor directly on the VESA mount, you can enjoy a tidier, organized, and clean workspace. This not only enhances the aesthetics of your space but also boosts productivity.
Customization and Adaptability:
SN SYSTEMS' VESA mounts are highly customizable and multifunctional. You can tailor the monitor to your preferences, creating a bespoke setup. This adaptability allows you to optimize your experience according to your needs.
SN SYSTEMS' VESA mounts seamlessly integrate into any environment. Their sleek and modern design adds a touch of sophistication to any space. Additionally, cables can be concealed within the mount, contributing to a neat and tidy presentation.
SN SYSTEMS' ergonomic VESA mounts are constructed with high-quality materials, ensuring maximum longevity and reliability. This means that your VESA mount solution is a long-lasting investment.
If you seek to enhance the comfort and efficiency of your workspace, SN SYSTEMS' mounts are a smart choice. Choose quality and innovation to ensure exceptional performance for your monitor and workstation.
Don't wait any longer; get in touch with us! We'll find a solution to meet all your needs together. Contact us today!